Inclusive peace in Afghanistan means 'women at the centre' urges UN deputy chief in Kabul
The Deputy Secretary-General said they had come ahead of the key presidential election, due to take place at the end of September, but also to lend their support for a peace process "which is integral to the future, and the sustainability of all the efforts and aspirations, the Government and people of Afghanistan have."
Only a few days ago, a bomb attack just outside Kabul University, reportedly killed 10 people - students and a traffic officer - and wounded 33 others, while Taliban militants reportedly detonated a bomb outside police headquarters in Kandahar city, killing 11 and wounding nearly 90. Despite the on-going violence, Afghan political leaders held ground-breaking talks in Qatar earlier this week with Taliban representatives, with both sides calling for a reduction in civilian casualties.
"At the end of two days we have been impressed with the leadership at all levels of government from Kabul out to the local areas, where you see that there is an investment in people, in particular in women's empowerment', said Ms. Mohammed.
The high-level UN delegation held meetings with President Ashraf Ghani and Chief Executive Abdullah Abdullah on Saturday, and also met a diverse group of women, hosted by Afghanistan's First Lady, Rula Ghani. They also met religious leaders, who have a crucial role to play in bolstering the peace process.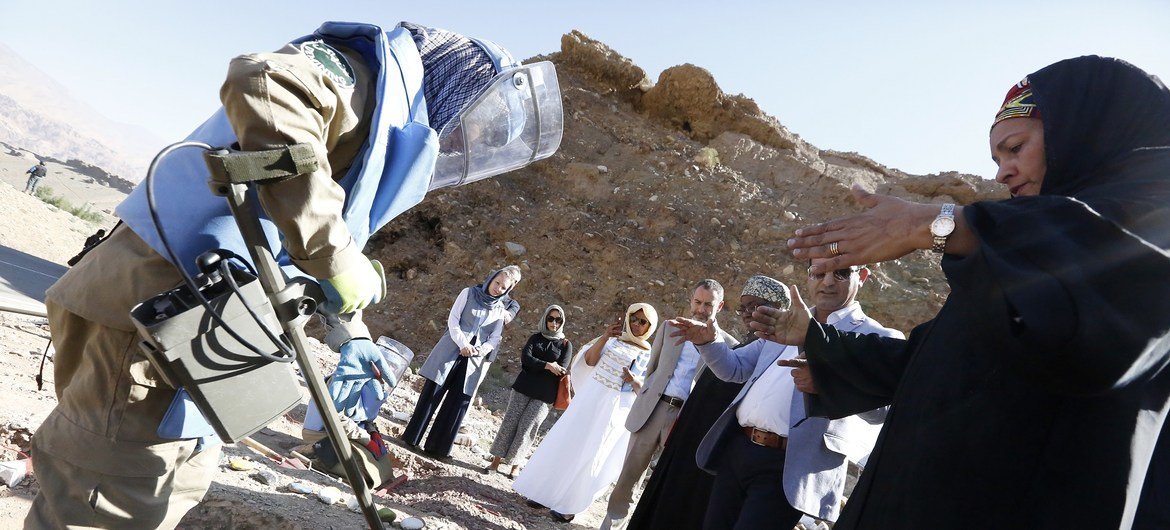 Fardin Waezi / UNAMA
UN Deputy Secretary General Amina J. Mohammed (right) speaks to deminers during a visit to demining site in Bamyan, Afghanistan. (21 July 2019)
On Sunday, the delegation travelled outside Kabul to the province of Bamyan, where UNFPA is running a series of support programmes and services for women of reproductive age and families, as well as tackling gender based violence (GBV). They also visited a UN demining site, and the
UNESCO
World Heritage Site of the Buddhas of Bamyan, which were dynamited and destroyed by the Taliban in March 2001, which ruled the country until the allied invasion later that year.
The deputy chief said her face-to-face conversations with Afghan women during the mission had left her with no doubt that women are "in leadership roles, decision making, they know exactly where they want to go - and what they need from us is support", she told reporters.
"We have heard from them many messages: on the elections, that they must be credible, they must be timely, they must be inclusive, and their voices must be heard."
"On the peace process", she continued, it had to be inclusive: "And inclusive means women at the centre", especially when it comes to addressing the needs of victims of violence.
"You cannot address peace and its sustainability, if you cannot come to terms with reconciling the past. So this has been an incredibly important opportunity for us", said the Deputy Secretary-General, noting that during the trip they had also been gratified to see "the gains of the investments that have been made by the UN system and its